Les Brodeuses Parisiennes
Sophie BESTER and Judith DESSONS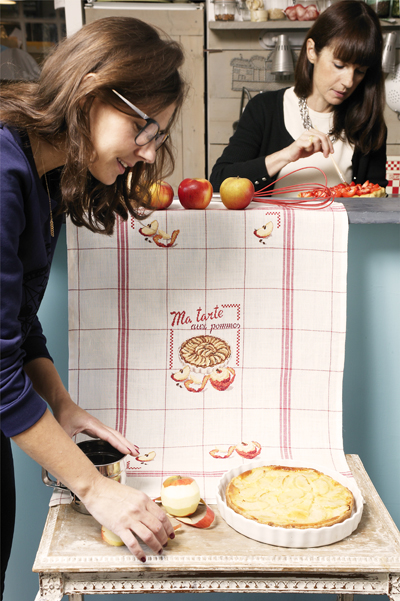 In 1999, Sophie created a magazine devoted to cross-stitch called « De Fil en Aiguille » and became its chief editor. In 2012, Judith joined the team as deputy chief editor.
For twelve years, the magazine was highly successful and, when it closed down, there was no question of dropping any stitches !
There was a great deal of 'savoir-faire', a team, a whole heap of ideas and a real wish to promote cross-stitch embroidery with the whole family of talented designers
who had worked with such success on the magazine for so many years.
This was more than enough to create a label that was the brainchild of Sophie and Judith.
Les Brodeuses Parisiennes and their team, with the support of a large number of former readers of the magazine, were starting on a new adventure !
A label that has real style and responds to your wishes!
For the simple reason that it is above all women who embroider, all the collections of Les Brodeuses Parisiennes are aimed at the fair sex.
Who are they ? How do they live ? What different styles of material do they prefer ?
Are they romantic or resolutely classic ? Do they go for a Vintage style or a more rustic style ? It was by asking all these questions that we were able to establish our creations and our various collections. These were aimed at satisfying the expectations of our clinet-embroiderers. At the present time, no other label offers as many embroidery opportunities in as many different styles !
A new idea is born !
The materials used for our embroidery are the result of a happy marriage between the materials themselves and the exclusive charts that we have designed to go with them; they have all been chosen with harmony as a priority. We choose each material to be embroidered from the very best supppliers with the greatest possible care and we pay particular attention to the small détails that impart that special charm to the work. A great deal of work is put into the different shapes and forms which we want to be up to the minute, and these are all both elegant and practical.
The rôle of the artistic directors in the creation of a new chart requires that particular attention be paid to the wishes of our client-embroiderers as well as to the creation of a close rapport with the cross-stitch designers. Whether it be a bag or a tablecloth, a story or an alphabet, it's always a real team effort !
We support " Made in France"
We have complete faith in the savoir-faire of French manufacturers and we are proud of them !
Our workshops which are all to be found in our beautiful country, are small enterprises where our products are created one by one in small runs following in a real artisanal tradition.
From design to manufacture, the products of Les Brodeuses Parisiennes are 100% made in France !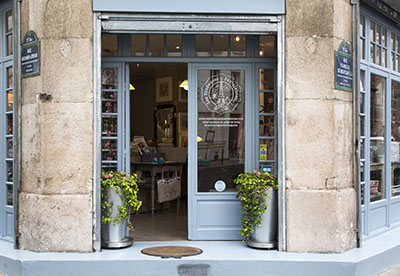 Les Brodeuses are busy as bees in a hive and our boutique is a hive of activity offering something very different. It is full of light and offers the warmest of welcomes ;
with its rough stone walls, it is one of the very few truly old boutiques of Paris.
We will be delighted to welcome you from Wednesdays to Fridays as well as on two Saturdays each month. The rest of the time our beehive is full of activity where both the workers and the queen bee are creating new collections and sending off orders. When we open our doors, we will be happy to welcome you with a smile and
give you all the time in the world to inspect our samples and to ask your questions.
Our shop in Paris is located :
1 rue François de Neufchâteau
75011 Paris (at the corner of 34 rue Richard Lenoir)
Underground-Line 9 : Voltaire station (Exit N°3)
Phone : 00 33 (0) 1 40 24 20 80
Days and Opening hours :
From Wednesday to Friday: 1 p.m to 6 p.m


Les Brodeuses Parisiennes it is 100% creation and made in France !